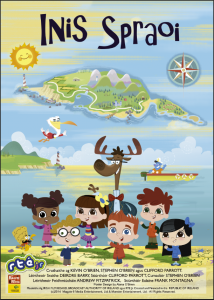 After the studio finished the Disney Preschool shorts in mid-2010, Cliff Parrott asked the project's music composer, Stephen O'Brien, whether there were any preschool shorts on Irish TV at the time that were similar to what we just produced for Disney. Stephen, who was a founding member of the Irish rock band HAL, is also an Irish language preschool teacher. He didn't think there was anything like it in Ireland. Stephen's brother, Kevin O'Brien, who was an editor for the Irish TV broadcaster TG4, and a member of the Irish folk band The McGetigans, said he'd never seen anything on TG4 that was similar.
The three decided to come up with a series of preschool shorts that would introduce English speaking parents and kids to the Irish language, while entertaining them with interesting characters and story lines. They created their first two minute short featuring the "Tidy Up" song which was entirely narrated by native Irish speaker MacDara O'Conaola. This concept version of Inis Spraoi was presented to RTÉ's Sheila DeCourcy. She really liked the project but saw most of the stories happening outside the school, on a lovely island.
We took on Sheila's suggestions and also some suggestions from the Irish Film Board's Emma Scott (IFB). She liked the idea of an interactive element to the show. The IFB provided key development money to put together a 7 minute pilot episode called "The Foggiest Notion". With pilot in hand, Cliff went around looking for financing and decided to partner up with Monster Entertainment, who was already Magpie 6's Irish co-producer of their series, "The Travels of the Young Marco Polo." Monster Entertainment's Deirdre Barry had just come off of the production "I'm A Creep Crawly" and was available as producer of Inis Spraoi.
Production began in April of 2013 and finished in May 2014. The series was distributed by Monster Entertainment and broadcast in several territories in 2014. It will debut in Ireland on RTÉ Junior on the 16th of February, 2015. We're all looking forward to seeing the reaction from Irish audiences!